Compared with traditional copper cable, Hangalaxy 10G/40G/100G AOC has incomparable advantages:
Long transmission distance, high transmission efficiency, small size, light weight, low energy consumption, stable connectors.
Hangalaxy AOC has completed distance customization and testing in the factory, without the need for terminal plug testing, which can help users save more time.
AOC wiring consistency and repeatability is better, closed ends are easier to avoid the impact of environment and vibration swing, if there is a fault, it can be replaced directly, saving costs.
Features


40G QSFP+ to 4*10G SFP+ breakout Active Optical Cables:
1.Electrical interface compliant to QSFP+ connector (SFF-8436) and SFP+ connectors (SFF-8431);
3.850nm VCSEL transmitter, PIN photo-detector receiver;
4.Operating case temperature: 0 to 70℃;
5.3.3V power supply voltage;
6.All-metal housing for superior EMI performance.
100G QSFP28 to 4X25G SFP28 Active Optical Cables:
1.Electrical interface compliant to SFF-8436 and SFF-8431;
2.850nm VCSEL laser and PIN photo-detector;
3.Maximum link length of 70m on OM3 MMF and 100m on OM4 MMF;
4.Digital diagnostics functions are available via the I2C interface;

10G SFP+AOC图

40G QSFP+AOC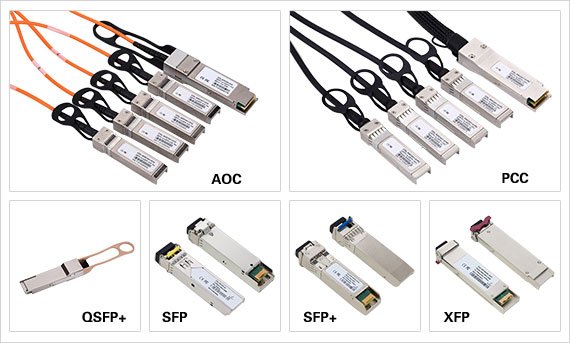 Optical module